Описание
Zidoo Z1000 PRO
*New chipset RTD1619DR hexa-core 64bit high-performance processor.
*Built-in VS10 engine could process Dolby Vision very well. All files could be mapped to similar color of Dolby Vision, image quality improves a lot.
*2GB DDR4 Large memory and 32GB eMMC internal storage supports smooth running and masses of apps installation.
*Android 9.0 OS has improved the system performance and stability greatly.
*Large front LED display panel, high-quality switching mode power supply and hidden large-capacity NSS patent HDD bay and antennas.
*HDMI 2.0 supports 4k 60Hz point-to-point output,HDR(HDR10/HLG/HDR10+/Dolby Vision), 12Bit, BT2020 wide color range, YCbCr 4:4:4 color space. Supporting audio passthrough.
*More accurate HDR10 static metadata (MaxFall,MaxCll) processing, highlights and shadows display with stark contrast.
*Support HDR10+ dynamic metadata processing, images colors and brightness levels could be obtained accurately frame by frame and scene by scene.
*Advanced Dolby Vision technology, support high-quality Dolby Vision low latency(LLDV)output, the most suitable brightness could be output for images and scenes of each frame. Highlights are brighter while shadows are darker, displaying the best visual effect.
*Support automatic frame rate and resolution switching to ensure smooth video playback.
*Support SATA/USB(3.5/2.5) connection (hard drives up to 14TB) and external unencrypted BD / DVD/CD discs.
*Support BD/BD3D/UHD full Blu-ray navigation and complex MPLS structure Blu-ray seamless branching playback.
*Almost all 3D video formats are supported, including MVC 3D (Blu-ray\MKV).
*Support lossless playback including SACD ISO (stereo),DSF,DFF .
*Support special effect subtitles, download subtitles online and exclusively support Blu-ray and MKV forced subtitles.
*Support Roon Ready, Spotify music streaming and DRM Widevine L1 to enjoy high-quality online video playback.
*HomeTheater3.0 with brand-new UI supports automatic posters scanning, custom classifications and movie trailers.
*Newly upgraded Music Player supports lossless playback and decoding, personalized setting and associated songs data matching.
*Support standard WOL, users could choose Power On mode or Standby mode after switching on.
*Pass through Control 4 smart control certification, connecting to smart home conveniently (power on/off could be controlled).
*IOS and Android ZIDOO Controller APP could control media players easily in same LAN (power on/off could be controlled).
4K Ultimate Evolution
ZIDOO is dedicated in developing leading technologies to provide users extreme experience
Z1000Pro is equipped with RTD1619DR hexa-core 64-bit professional processor
With advanced Dolby Vision VS10 image quality processing engine built in
Support Dolby vision low latency(LLDV)procession
LLDV makes the whole device look more exquisite and beautiful
Good Craftsmanship
Z1000Pro chassis has adopted metal wiredrawing processing with exquisite appearance design and military-grade quality. Large LED front panel display supports brightness adjustment. NSS patent HDD bay and antennas are hidden in the chassis, which makes the whole device look more exquisite and beautiful
Large Memory and Internal Storage
2GB DDR4 large memory comes with fast and smooth playback response, which helps enjoying wonderful movie and music. 32GB eMMC super internal storage supports to install masses of favorite apps and create more possibilities for audio-visual entertainment
Multiple Interfaces
Z1000Pro has many interfaces including HDMI input, HDMI output, SATA3.0
SATA3.0 internal HDD bay, USB 3.0 x 2, USB 2.0 x 2, RCA(L+R)
RCA Video, Optical, RS232 and Gigabit LAN etc.
Meet home theater enthusiasts' needs for connecting various equipments
High Quality Power Supply
Z1000Pro has high quality switching mode power supply, which has metal shielding treatment to effectively reduce the magnetic field interference and ensure better audio and video output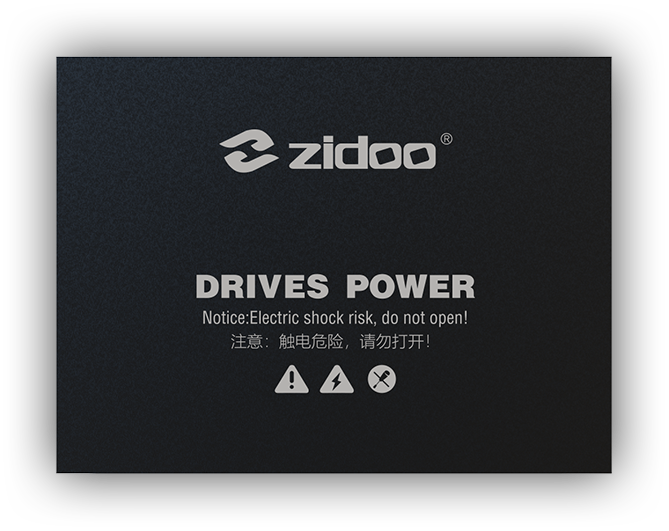 4K UHD Image Quality
Image engine can easily decode 4K HDR images which encoded with HEVC/H.265
Support 3840 x 2160 60Hz output
Each pixel is natural and full, images are clear and vivid even in a large screen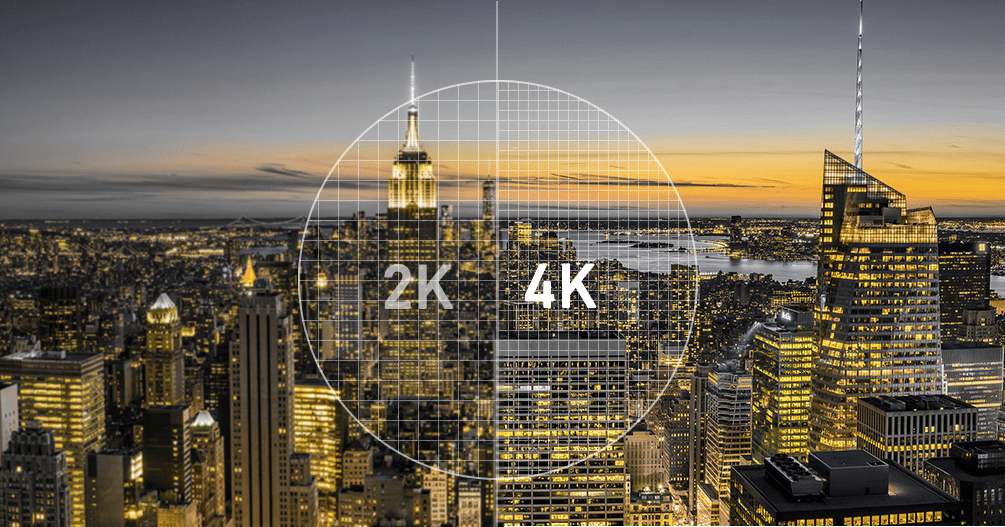 Accurate Frame Rate Switching
Z1000Pro supports switching original resolution and frame rate automatically and accurately (23.976,59.94,25,30,50 and 60). The new automatic switching algorithm allows completing the film frame rate switching in advance to ensure smooth and integral film playback
Stunning HDR Technology
New HDR processing engine can deal with HDR10 static metadata (MaxFall, MaxCll) more accurately. Color contrast is stark, both highlights and shadows can be displayed perfectly, which could display images like real scene
Meanwhile, Z1000Pro provides HDR to SDR algorithm, it helps displaying HDR movies very well on SDR devices through dynamic correction and color reproduction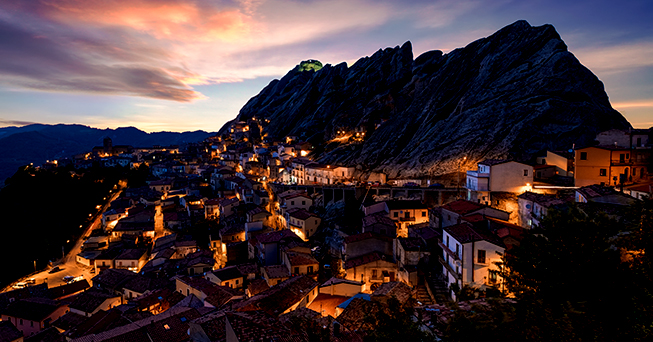 SDR brightness range: 0.1nits – 100nits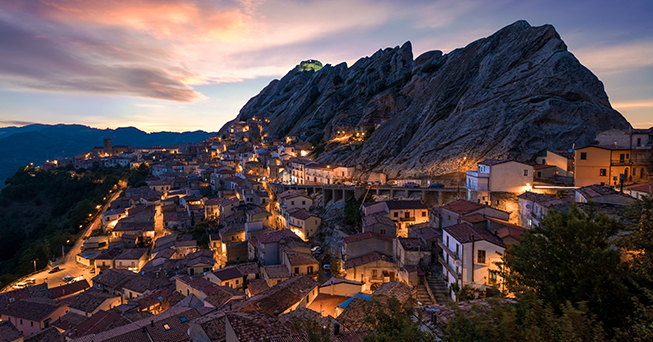 HDR10 brightness range: 0.005nits – 1000nits
Higher Level HDR10+
Z1000Pro takes the lead in adding HDR10+ and Dolby Vision technology. HDR10+ technology could not only display peak brightness up to 4000 nits, but also process metadata accurately for each frame. Namely, colors and brightness levels are obtained frame by frame and scene by scene, images could be displayed in details with wide dynamic contrast and richer colors

HDR10+ brightness range: 0.005nits – 4000nits
Dolby Vision VS10 Technology
Z1000Pro integrates Dolby Vision VS10 image engine, which supports Dolby Vision low latency(LLDV)output. Dolby Vision has adopted advanced dynamic metadata processing technology, so that the most suitable brightness could be output for images and scenes of each frame. Shadows are darker while highlights are brighter. Even in the dark and weak-light environment, it could also display the best visual effect
Meanwhile, VS10 is a powerful engine, no matter what formats (Dolby Vision, HDR,HLG,SDR etc. ) or displaying devices, whether HDR outputting or SDR converting, all could keep color accuracy and bring good experience to customers. Even normal TV could experience Dolby Vision technology
* Brightness range: 0.007nits – 10000nits

12Bit Color Depth
Z1000Pro new image engine not only supports 10 Bit (approximately 1.07 billion colors) decoding and outputting at the resolution of 4K 60Hz, but also supports higher color depth 12 bit (approximately 6.87 billion colors) . 12 bit has vibrant colors and natural color transition
Wider Color Range
Z1000Pro supports BT.2020 wide color range which could display 75% nature colors and closer to what human eyes could see, while traditional BT.709 could only display 35% nature colors. It has bright and eye-catching colors, rich and full images, and a better sense of space, three dimension and layering
Android 9.0
Based on deep development of Android 9.0, the system performance of Z1000Pro has greatly improved with better stability and compatibility. Masses of apps could be installed. DRM widevine L1 is also supported
Cool Poster Wall
Z1000Pro comes with new movie posters management system
With concise navigation, personalized category, record viewing and custom collection etc.
It makes movie collection management more convenient
Fully improves the efficiency of mass movies management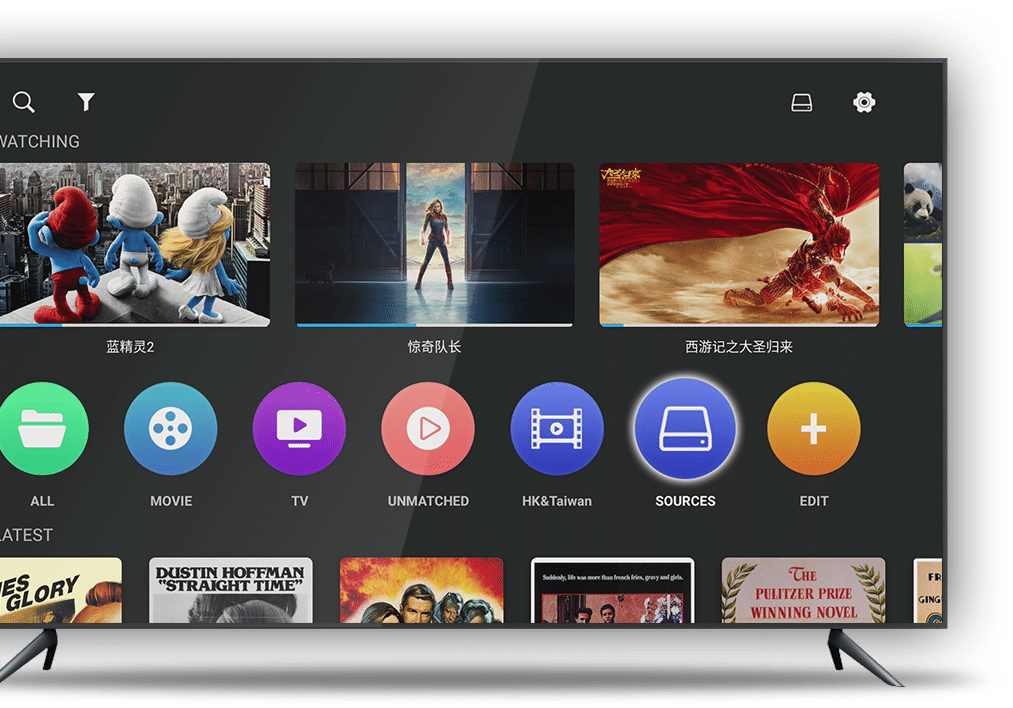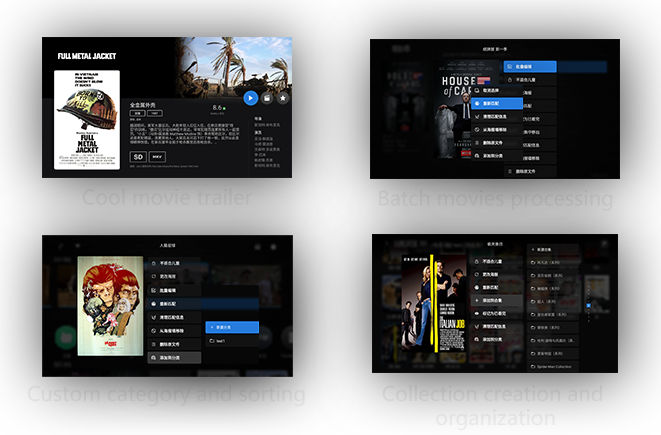 Video Formats and Extensible Storage
Z1000Pro has built in a powerful player, supporting BD/UHD Blu-ray (BDMV/ISO), 3DMVC (Blu-ray, MKV), MKV, M2TS, MTS, TS, MP4, MOV, AVI, WMV, MPG, MPEG, VOB, FLV, 3GP, TP, etc. What's more, it could connect with drives and hard disks (up to 14TB). NFS and SMB serves could be read in the same LAN
Smooth Blu-ray Seamless Branching Playback
Z1000Pro optimizes the video playback engine, which improves the Blu-ray seamless branching playback and says goodbye to stuttering and messy playback issues. BD and UHD Blu-ray navigation are played just like enjoying movies in a cinema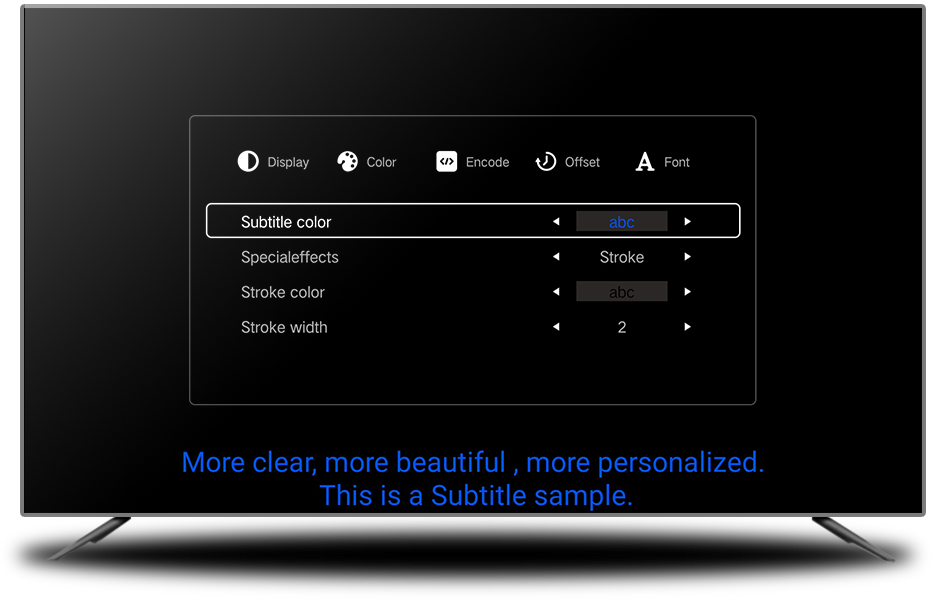 Powerful Subtitle Features
Search and match subtitles for movies automatically from the Internet. PGS,ASS, SSA, SUP, SUB and SRT subtitle formats are supported. Subtitle font, color, special effects , location could be customized. MKV and Blu-ray forced subtitles are also supported
Lossless Music Playback
Supporting master-level DSD (SACD ISO /DFF/DSF/DSD formats), regular lossless formats FLAC, WAV, APE,DTS etc., CUE track and CD-ROM playback (CD-ROM is not included)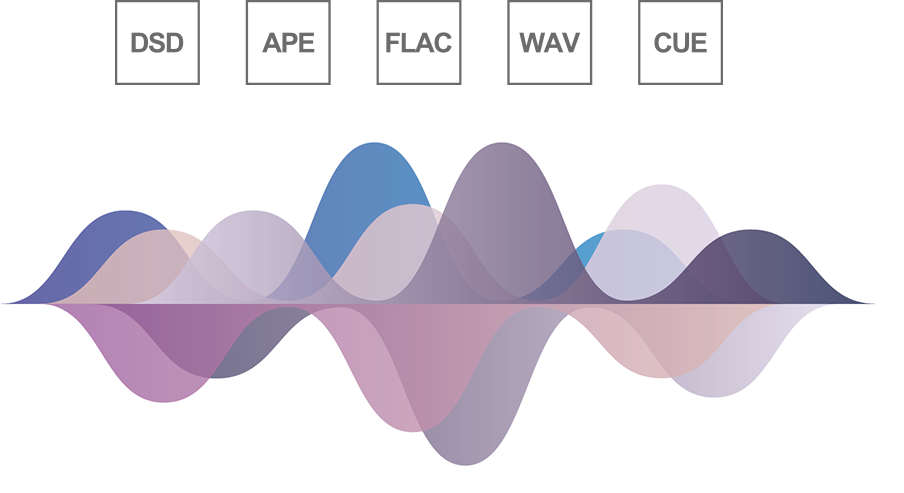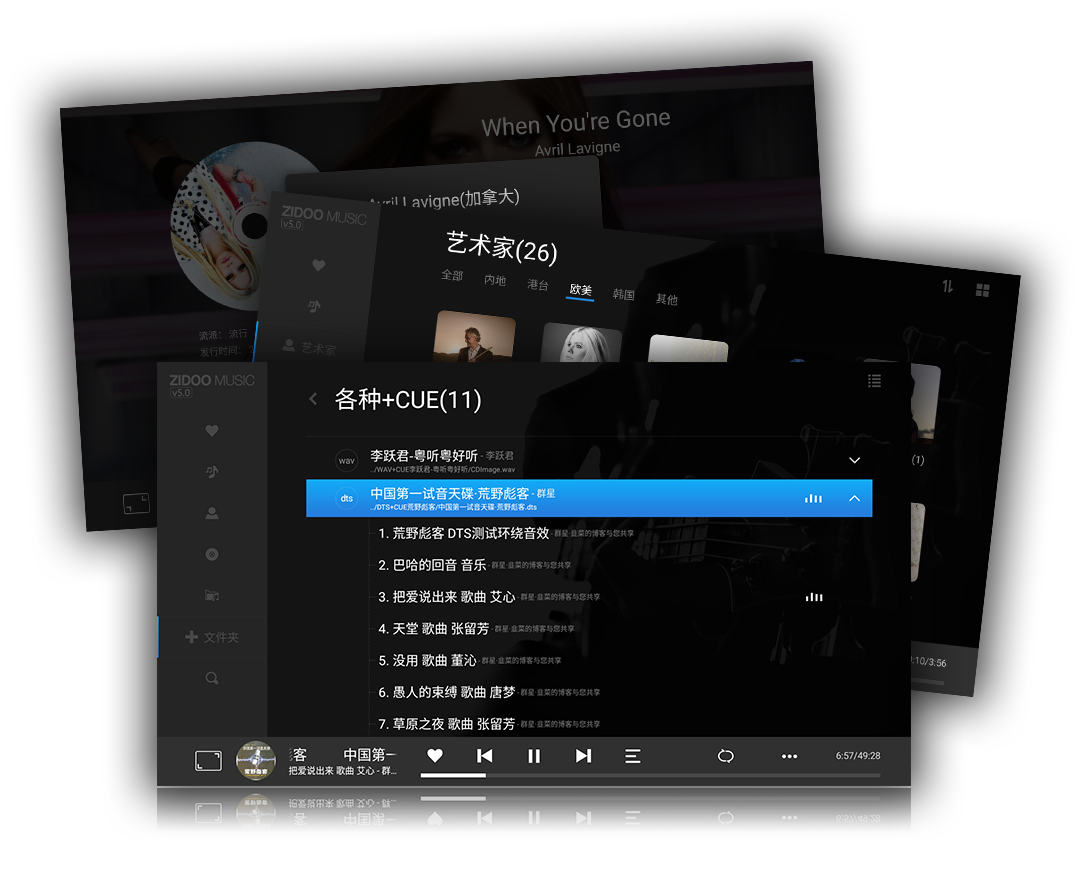 Music Library
Music resources from network drives and local hard drives could be added and managed to generate exclusive music library. Music could be collected and managed in a brand-new way
Music Streaming
Z1000Pro is perfectly compatible with Roon Ready and Spotify
Support high-end network streaming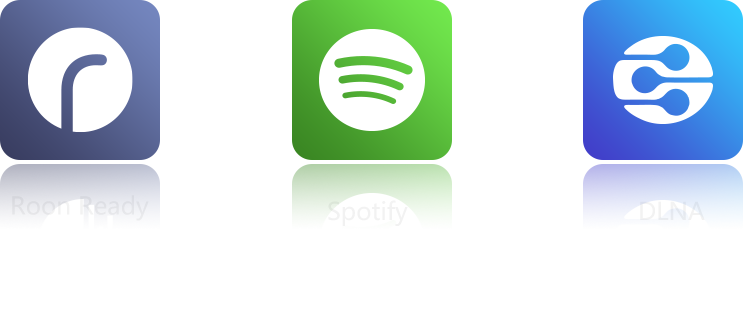 Wireless Casting
Z1000Pro supports DLNA network protocol, videos could be cast from cell phone or tablet to a large screen, while audios could be played synchronously on display devices from cell phone music apps (Third-party video casting APP and music streaming APP are needed to install manually)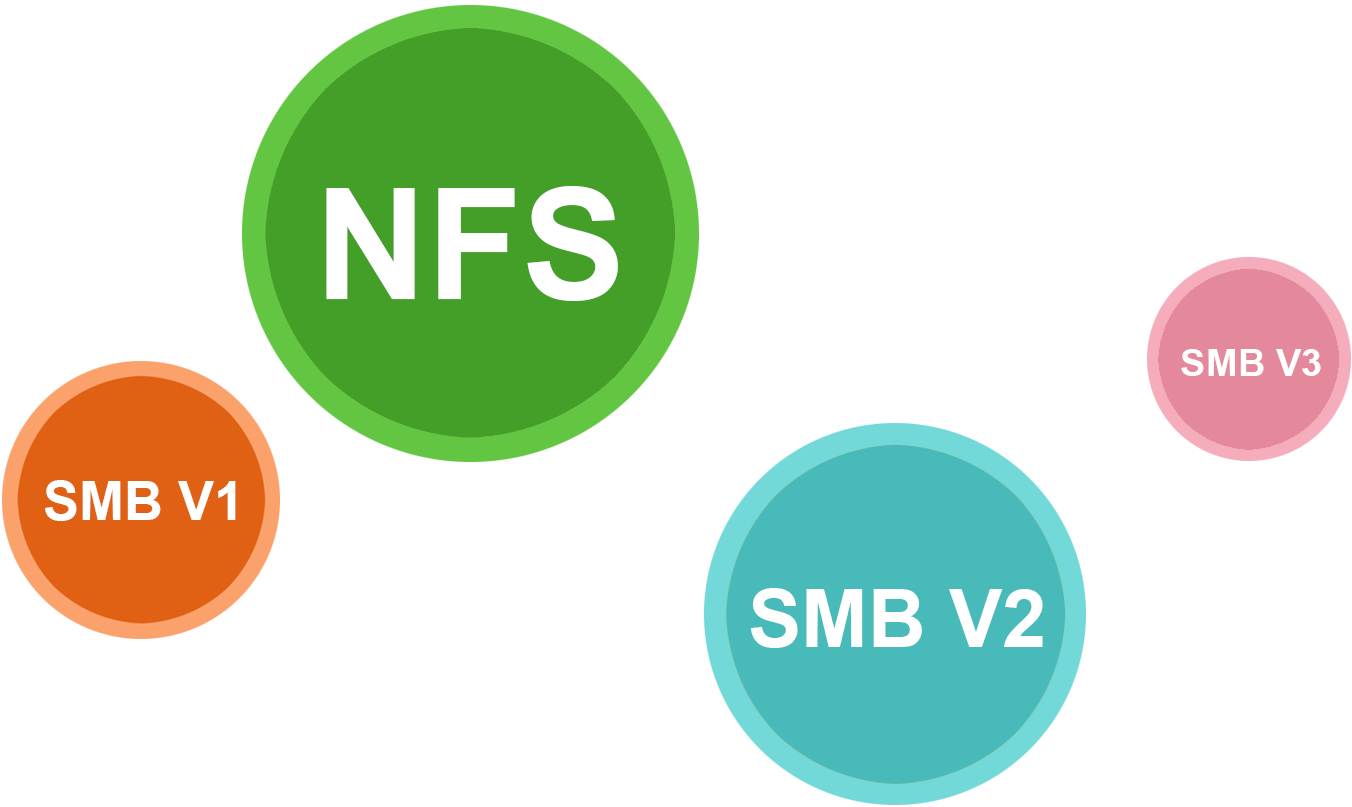 Network Sharing Protocols
Z1000Pro supports Gigabit network transmission, it could work with NFS, SMB v1/v2/v3, UPnP, FTP network protocols. It will automatically scan all available network drives in the LAN and read data quickly and reliably. NAS, PC and other servers are supported
ZIDOO Controller APP
ZDIOO Controller APP could control media players seamlessly in LAN. Home Theater and Music Player could be set on cell phone without suspending audio and video playback. Music could be played without turning on displaying device. And media players could be powered on/off without remote control