Описание
Anthem Integrated 225
As usual our "keep-it-simple" philosophy lies front and center. The Integrated 225 is sleek, its outlook minimalist. It doesn't call attention to itself in any overt way yet when it sits in the A/V rack, you can't help noticing just how good it looks. The inside story is similar: high-quality component parts; critical inputs are buffered to prevent crosstalk; a combination active/passive "EQ" technology in the phono stage unlocks all of the magic hidden in those vinyl grooves … with a transparency, refinement and detail that should be far more expensive, but isn't.
HIGH-QUALITY, CLOSE-TOLERANCE PARTS
As with all Anthem components, the Integrated 225 boasts all parts of high quality and close tolerance, including metal film resistors and high-quality film signal capacitors. The result is the lowest possible total harmonic distortion plus noise. To prevent one source from interfering with another, critical inputs are individually buffered.
BUILT-IN PHONO STAGE
Designed specifically to accommodate today's high-quality Moving Magnet phono cartridges, the Integrated 225's built-in phono stage will delight even the most die-hard vinyl enthusiast.
Since the job of the phono stage is to supply most of the gain, two factors are critical in achieving the highest level of playback quality: a superior approach to RIAA equalization and the quality of amplification used to step-up cartridge output to line-level voltage.
The Integrated 225's phono stage benefits from a split active/passive equalization topology. Active equalization of the low-frequencies occurs at the 50 Hz and 500 Hz roll-off points (as defined by the RIAA equalization curve). At the 2122 Hz mark (also defined by the RIAA curve) however, high-frequency equalization remains passive. The original signal passes through the curve in tact and with perfect linearity; no musical information is lost or distorted and the nuances of the original recording remain completely preserved.
In an effort to keep component parts to a minimum within the signal path, the non-inverting series feedback topology in this stage is designed around only two dual high-quality op-amps. The first provides all of the gain, while isolating the feedback network from the cartridge to ensure accuracy in frequency response. The second is configured as a buffer, isolating the equalization filter network from the volume control to prevent even the tiniest variation in frequency response when the volume level is adjusted.
The final result? Exceptional retrieval of all of the magic hidden in those vinyl grooves … from a silent background emerges tight, accurate bass, lightning fast transients, and a high-frequency detail and extension that will leave the listener aching for more.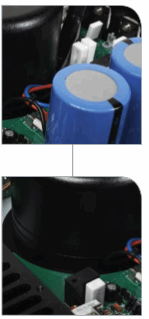 THE POWER WITHIN
The integrated 225's main power supply boasts an advanced generation toroidal transformer, a major contributor to the low-noise floor. This massive transformer is conservatively rated and designed with high rail voltage. It feeds two oversized (51 mm x 80 mm) low-ESL, low-ESR Nichicon filter capacitors employing a total capacitance of 30,000 microfarads. The main power supply also features ±15 V rails for the preamp audio circuits fed by two precision voltage regulators. An additional precision voltage regulator is used in the standby power supply. The Integrated 225's main power supply is active during "on" mode while standby power supply remains active in both "on" and "standby" modes.
Input and voltage amplifier stages are a differential design, however the output power stage, the stage most crucial to ultimate playback, benefits from Anthem's proven output stage topology: a fully symmetrical complementary Class AB design with three pair of high-quality bipolar output devices per channel. Designed to dramatically reduce distortion, this arrangement also ensures extreme linearity, effortless response and extensive bandwidth while minimizing power consumption.

HEATSINKS … COMPUTER-DESIGNED AND MODELED
Large custom heatsinks, one for each amplifier channel, ensure that the Integrated 225 dissipates heat quickly and efficiently. Computer designed and modeled, their job is to maximize heat transfer for efficient heat dissipation. The resulting cool operation means long term dependability and "no fans required."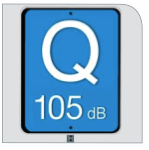 105 dB SIGNAL-TO-NOISE RATIO
With a 105 dB signal-to-noise ratio, the Integrated 225 rivals the achievements of more expensive separates. Anthem's always meticulous attention was paid to groundplanes and the design of the power supply (see section on Power Supply). Circuit board traces were laid out by hand. From a rich and silent black background, the only thing the audiophile is aware of is the music—rich and refined, full and enveloping, leaving you to wonder why anyone would contemplate spending more.

AN ANALOG APPROACH TO VOLUME
In keeping with its audiophile purist roots, the Integrated 225 features a large motorized analog potentiometer style volume control which tracks exceptionally well, rivalling the performance of a stepped attenuator. Volume can be adjusted three ways: manually, with the remote control, or through the RS-232 interface.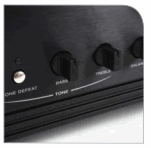 TONE CONTROLS WITH BYPASS FEATURE
The Integrated 225's bass and treble controls have been designed to affect the tonal extremes in a fairly undramatic way. They are particularly useful for taming poor recordings, without upsetting the musical balance. To adjust tone, Bass and Treble knobs are provided on the front panel. And for the purist (and the best recordings), the option is there to bypass these controls completely.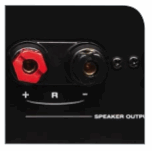 HIGH-QUALITY OUTPUT CONNECTIONS
The Integrated 225's robust binding posts ensure full and uninterrupted power delivery to the loudspeakers at all times. They're very easy to use and will facilitate large speaker cable connections. In addition to these speaker outputs, the Integrated 225 also includes Pre-out (for possible bi-amping applications) and Rec-out line level outputs.
A TRIGGER RESPONSE
The Integrated 225's trigger feature allows the unit to be turned on or off remotely via a trigger from another component or control system. The 3.5 mm (.125 in) mini-jack input receives a 12 V signal from the upstream component or system controller. The same trigger signal can be linked to other components through the trigger output.

PORTABLE MEDIA INPUT PLUS 7 MORE INPUTS!
A handy portable media input plus seven more stereo audio inputs include: Phono, CD, Balanced, AUX 1, AUX 2, AUX 3, and Recorder (Tape In). Each input can be connected via pairs of RCA connectors on the back panel of the Integrated 225, with two exceptions. The Balanced Input consists of two XLR connectors on the back panel and a portable media input is a 3.5 mm stereo jack and selector located on the front panel for quick and easy access. Any one of the inputs can be selected by pressing the appropriate button via the front panel, remote control or RS-232 command.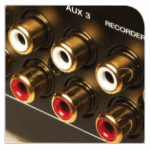 XLR BALANCED CONNECTION AND GOLD-PLATED INPUTS
XLR balanced connections are common in both professional recording studios and broadcasting to ensure the lowest level of noise and hum. Now you can use this same high-quality connection since the Integrated 225 includes an XLR balanced input. Gold-plated female RCA jacks on this unit also provide high quality single-ended input connections.

PHONO PREAMPLIFIER
The phono preamplifier is suitable for moving magnet and high-output moving coil cartrdiges
Input Impedance
47 kΩ
Input Capacitance
100 pF
Maximum Input
18 mV at 20 Hz, 140 mV at 1 kHz, 160mV at 20 kHz
Gain (at 1 kHz)
35 dB
Crosstalk (at 1 kHz)
80 dB
RIAA Response
+/- 0.5 dB (100 Hz to 20 kHz); -1 dB (20 Hz)
THD+N (at 1 kHz, 5 mV input)
0.05%
S/N Ratio (ref. 5 mV at 1 kHz, IEC-A filter)
83 dB
PREAMPLIFIER
Input Impedance
30 kΩ
'Pre-Out' Output Impedance
560 Ω
'Rec-Out' Output Impedance
100 Ω
Rated Input
1.0 Vrms
Maximum Input
7.6 Vrms
Minimum Load
5 kΩ
Rated Output (100 k1 load)
1.0 Vrms
Maximum Output (100 k1 load)
7.6 Vrms
Headphone Output
500 mW into 32 Ω at 0.03% THD+N
Channel Separation (at 1 kHz)
75 dB
Crosstalk Between Inputs (at 1 kHz)
72 dB
XLR Pin Configuration
Pin 1: Ground; Pin 2: Positive; Pin 3: Negative
Frequency Response and Bandwidth
20 Hz to 20 kHz (+0, -0.1 dB); 1 Hz to 170 kHz (+0, -3 dB)
THD+N (at rated input and output, 80 kHz BW)
0.003%
IMD (CCIF at 15 kHz and 16 kHz)
0.0005%
S/N Ratio (A-weighted, ref 2.0 Vrms)
105 dB
POWER AMPLIFIER
(per channel, continuous RMS, 20 Hz to 20 kHz, <1.0% THD)
Frequency Response
20 Hz to 20 kHz (+0, -0.15 dB)
Bandwidth
1 Hz to 200 kHz (+0, -3 dB)
THD+N
0.01% at 1 kHz, 0.03% at 20 kHz (100 W into 8 1)
Power Bandwidth
< 10 Hz to 100 kHz (+0, -3 dB, 200 W into 8 1)
Slew Rate
25 V/µs
Headroom
1.4 dB (8 1), 2.8 dB (4 1)
Damping Factor
80 at 1 kHz (ref. 8 1)
S/N Ratio (A-weighted, ref 225 W)
105 dB
Crosstalk
> 57 dB (100 Hz to 10 kHz)
Voltage Gain
29 dB
CONTROL
Infra Red
Carrier Frequency
38 kHz
Max. Emitter Current
Pass-through of input
Trigger
Input Polarity
Non-polarized
Output
Pass-through of input
POWER REQUIREMENTS

Impedance
8Ω
4Ω
# of Channels Driven
1
Both
1
Both
*Short Term
240 W
225 W (FTC)
330 W
310 W*

Power Consumption (8 Ω load)
Maximum
800 W
Typical
300 W
Fuse Rating (Fuse is internal)
Anthem serviceable only
Low Voltage Version: In countries where the line voltage is 120V, this product operates from a single phase AC power source that supplies between 108V and 132V at a frequency of 60 Hz.
High Voltage Version: In countries where the line voltage is 220V, 330V or 240V, this product operates from a single phase AC power source that supplies between 216V and 264V at a frequency of 50 or 60 Hz.
Dimensions
Width
5-7/8 inches (14.9 cm) including feet
Height
Width 17-1/4 inches (43.8 cm)
Depth
18 inches (45.7 cm)
Weight (Unpacked)
42.6 lb (19.4 kg)
Advanced Load Monitoring (ALM)
Anthem® integrated amplifiers are designed to perform flawlessly – offering stunning musicality, tonal neutrality and incredible dynamics while driving any speaker load reliably under real-world conditions! The power supply is conservatively rated and the amplifiers run cool for greater reliability, but we didn't stop there.These amplifiers feature our ALM (Advanced Load Monitoring) circuitry which protects sensitive output devices by constantly monitoring temperature, current and voltage to ensure optimum long-term performance. ALM is totally non-invasive – it is not in the signal path and only engages in the most extreme circumstances to protect the amplifier from damage by maintaining the safe operating area of the output devices. Buyer beware however! Not all amplifier manufacturers have sophisticated load-monitoring provisions. Many have saved the added cost, leaving their output devices unprotected, choosing instead to use the amplifier's output devices as "fuses." At Anthem, ALM is just one of the ways in which our products provide owners with years of reliable service.