Описание
Functional overview
*  Customized Android system and it is perfectly combined with media play and openness of system;
* Supports HDR10 technical, and also supports Ycbcr/4:4:4/ 12 bits/ 4K@60HZ outputs;
* Powerful decoding capability and supports 4K UHD H.265/10bit and maximum with 400Mbps streams
* Zidoo exclusive media center; supports SAMBA/ NFS. It is also the same as PC, which supports some normal operations of the file like copy, paste and delete, etc;
* Support USB mobile HDD player, and with NSS patent metal built-in and 3.5 inches HDD BAY.Harmless of plug in and out over 100,000 times and supports SATA 3.0 hardware over to 10T GPY format;
* The first one developed 23,.976, 59.94HZ frame-rate auto switch ;
* Supports all 3D formats playback (Including MKV MVC 3D), clean picture, appropriate depth, adjustable depth of field and support 3D subtitle
* Supports Blu-ray menu (IGS+ BDJ); supports POPUP menu and DIY subtitle.
* Powerful subtitle system with subtitle downloader built-in, and automatically online subtitle searching based on the current movie. Supports any kind of subtitle effects (Size, Color, Frame, Shade etc); exclusive function of supporting customized ASS font;
* Powerful internet performance; 1000M self-adaptive cable network and 802.11AC dual-frequency Wi-Fi and can meet all kinds of environment;
* 4.0 Bluetooth low power chips built-in and able to connect speakers, keyboards, mouse and other peripherals;
* Configuration full-function backlight remote control, complete media playback control, you can a key POPUP, switch tracks, subtitles, stop and other functions.
* Perfectly support RAW outputs and Zidoo exclusive lip sync technology;
* Unique HDMI IN 2.0 port, and able to achieve PIP and support recording function;
* Unique timing hibernates and shut down;
* Oversize LED display and gets to know the working condition of the machine; able to shut it down through software;
* Aluminum alloy CNC shell, 5DB higher gain double antenna;
* With global CDN OTA upgrade system built in; timely firmware updates;
* ZIDOO exclusive music player, support APE, WAV, FLAC and other music formats, support CUE track. Build your own PLAYLIST.
ZIUI is more than a launcher
It is a series of components developed by the Zidoo Team over several years, which includes a file manager, a NAS kit, a feature-rich player with powerful subtitle supports and an OTA service based on the global CDN cloud.
A Small Screen Brings a Lot
A LED display glimmers bluish color, is embedded in the metal hull of X10,and perfectly complimented by each other.With it you can be aware of how much time the movie has elapsed and the status of the Box in real-time.
A Ultimate Streaming Capacity
Get the Clearest,highest-quality Picture.Get the full support of UHD Premium and the most powerful decoding and output capacity. It's all powered by RealTek RTD1295DD, which comes with 64Bit A53
and Mali-T820,
the most advanced processor Realtek has ever built.
True 4K
The really powerful processor enable zidoo X10 to output True 4K picture.
It is 4K physical pixels distinguish X10 from fake 4K by algorithm workaround.
The details then are able to be clearly present.
HDR(High Dynamic Range)
HDR is a new standard for Ultra HD TVs that brings image quality closer to the natural world. With HDR, Your TV comes to life with richer colors, more details, and brighter objects.
HDMI installed in X10 can guarantee the HDR picture transmission properly.
Internal 3.5″ HDD Bay
Zidoo X10 supports an internal 3.5″ hard drive up to 10TB.User-friendly tool-free for dismounting. And high-speed SATA interface.It's Perfect for download a mass of movies byTransmission or Aria (built-in APPs) and arrange them by Theater(Zidoo APP)
Enhanced Color by 10-bit
Thank for the 10-bit color and BT.2020 New technology. This is considered deep color and instead of offering 256 RGB (Red, Green, Blu) values, it offers 1024 of them. This amounts to a total of 1.06 billion colors instead of the 16 million offered by older 8-bit color TVs. Thus, the gradations between shades and different tones in onscreen content present a far greater degree of realism to the viewer.
Immersive Sound
It is important to restore the truth of the sound for watching movie.Zidoo X10 supports restore back to live recording. Zidoo X10 supports wired transmission and bluetooth speaker.You will be amazed by the immersive music and sound.
*Support multichannel decoding and passthrough
A master of native playback
Zidoo X10 comes with a powerful media player, which supports 3D MVC frame packing (Blu-Ray, MKV), 3D subtitle (PGS, external), 3D depth of field (DOF), specifying playback time period, selection of multiple slide lights and versions, adjustment of subtitles (colour, time-delay, location, coded format) and real 23.976 fps.
A smart network settings
The unprecedented functions of LAN sharing, include full-automatic searching of SAMBA,NAS,UPnP,FTP and iTunes server,etc..
You can manage all you video files without any tedious steps.
*Support BitTorrent download function.
Bluetooth 4.0
Zidoo X10 provides a comfortable environment.
Zidoo X10 with Bluetooth 4.0 supports the connection from BT speakers,
keyboards,mouses and many more.Higher playable, more compatible.
Broad compatibility with videos
As a home media center, Zidoo X10 broadly compatible with most of video formats.Zidoo X10 support BD-ISO include the full Blu-Ray menu, much less the common video formats.
ZDMC
ZDMC is an open source media center of zidoo. You can install addons in ZDMC to expand more functions . Besides, ZDMC is much helpful to stream online videos.
A Brand-New Design Subtitles System
A unparalleled Subtitles system was designed for Zidoo X10.
ASS special effects, HTML Tags, Customizing fonts and a lot of sytles are all supported in external subtitles.
Such amazing effects you rarely see in other mediaplayers come with this latest flagship
High Scalability
The Zidoo X10 supports various interfaces, including USB 3.0,Gigabit Network, Optical SPDIF, Composite Audio, HDMI out, HDMI IN,TF card port and AUX, allowing limitless connectivity to external devices. Zidoo X10 is the preferred device on the playability and practicality.
Simplified
Easy to operate Clear & Easy to operate
Zidoo has many years industrial experience, has accumulated millions of users about
operating habits, data, and cares about every detail. Built on android, the ZIUI
gathers hundreds of optimizations elaborately.
No learning cost
Get it done first time
Zidoo devices will guide you initialize settings for the first time, which is easy
and simple. Only five steps need to be taken, it can complete the deployment of the
professional audio and video center.
Real Professional Level
Full-functional Media Center
ZIUI has a complete full-featured Media Center, which means not only has the PC
version of the complete file management, but also with a large-screen operating methods.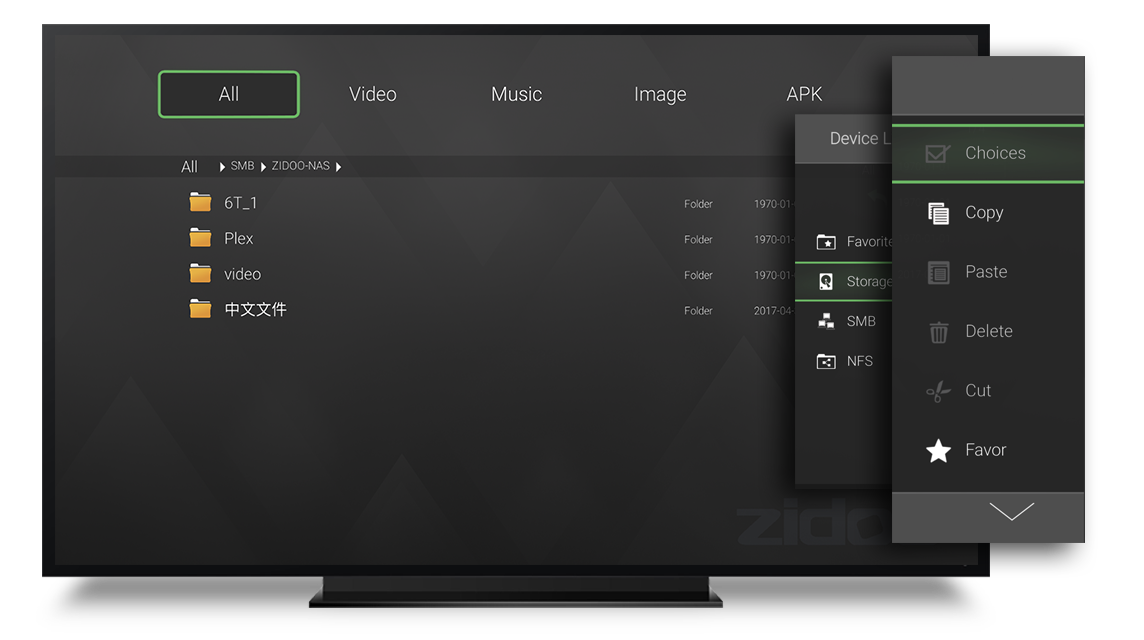 Network Access freely
Automatically scan all available network drives in network surrounding and provide
fast and stable connectivity
Automatic identify audio and video files
In addition to automatic identification, if you choose the audio and video files,
the system will automatically scan the file format, and match the corresponding to
open the menu, a full range of user-friendly design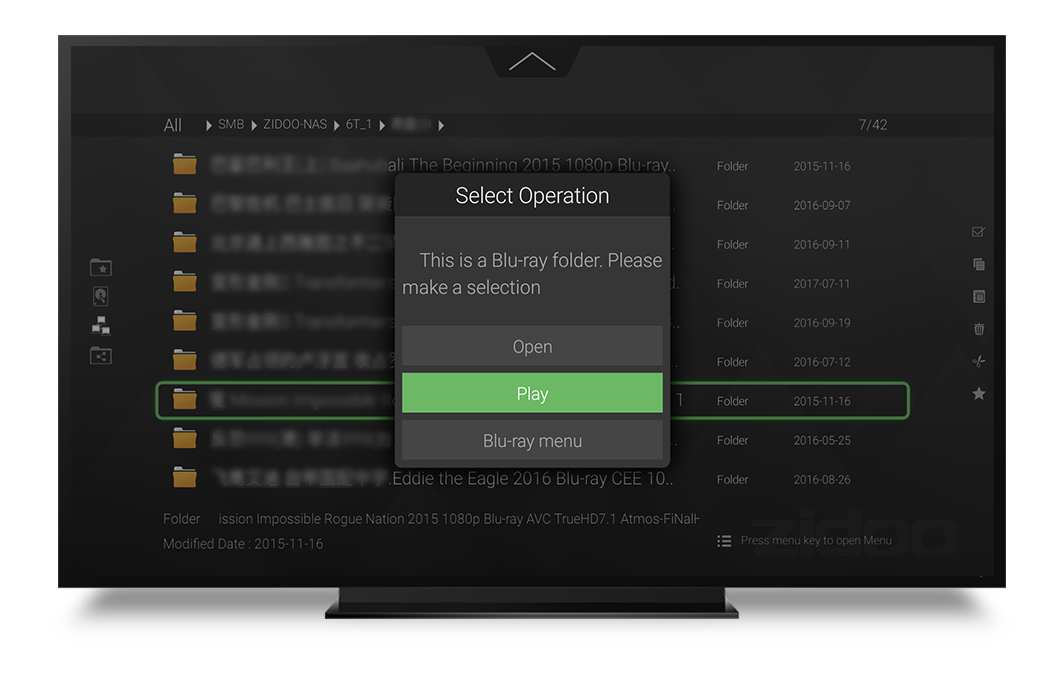 Powerful Media Player
Have all you want
ZIUI media player is quite strong, accumulated Zidoo years of technical experience and
countless debugging tests, many times leading the industry trend of technology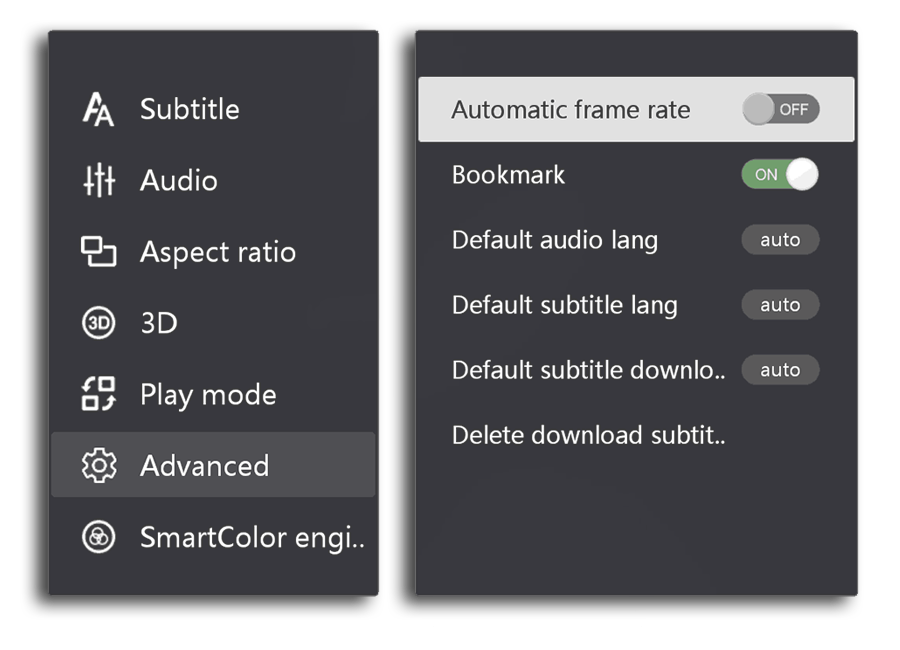 Automatic subtitle match
Unique subtitle download system that can automatically search the Internet to play
the current video subtitle file and download, eliminating the needs for manual
search, and no manual loading needed
Accurate subtitle settings
In addition to automatically search for matching subtitles, but also can make
all-around personalized settings, including fonts, colors, special effects, location, etc.
All-round Music Player
Music player is also an overwhelming advantage of ZIUI, the beautiful UI interface
with a full range of functions; supports CUE list display and preset a variety of EQ
effects; In addition, music player also supports reading music album cover and other functions
Poster Wall
This is home theater
For the videos you've collected in your local storage device, the zidoo poster wall
feature will be able to match your video posters and video details automatically to
you. In addition, it's the only cross-device poster wall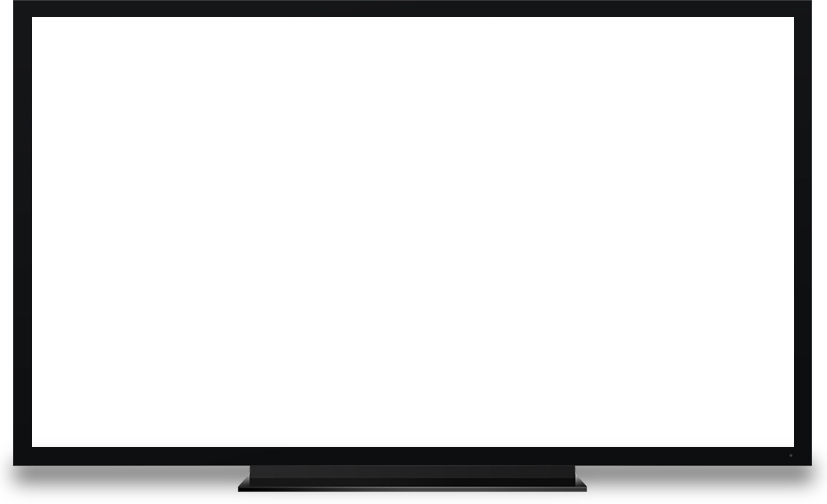 Select video based on picture
Poster Wall is more vivid and visualized when selecting a video compare to files
Advance video selection
Zidoo poster wall also has online library-like classification and search selection,
quick and easy operation
Install APP
Expand unlimited possibilities
ZIUI allows you to install the third-party APPs via USB storage devices or WEB-side
uploads, providing you with a more convenient and faster user experience
Multi-screen interactive
Mobile phone remote control
In addition to the remote control, you are also able to control the device through
the cell phone by using mobile terminal APP of zidoo device, easy interconnection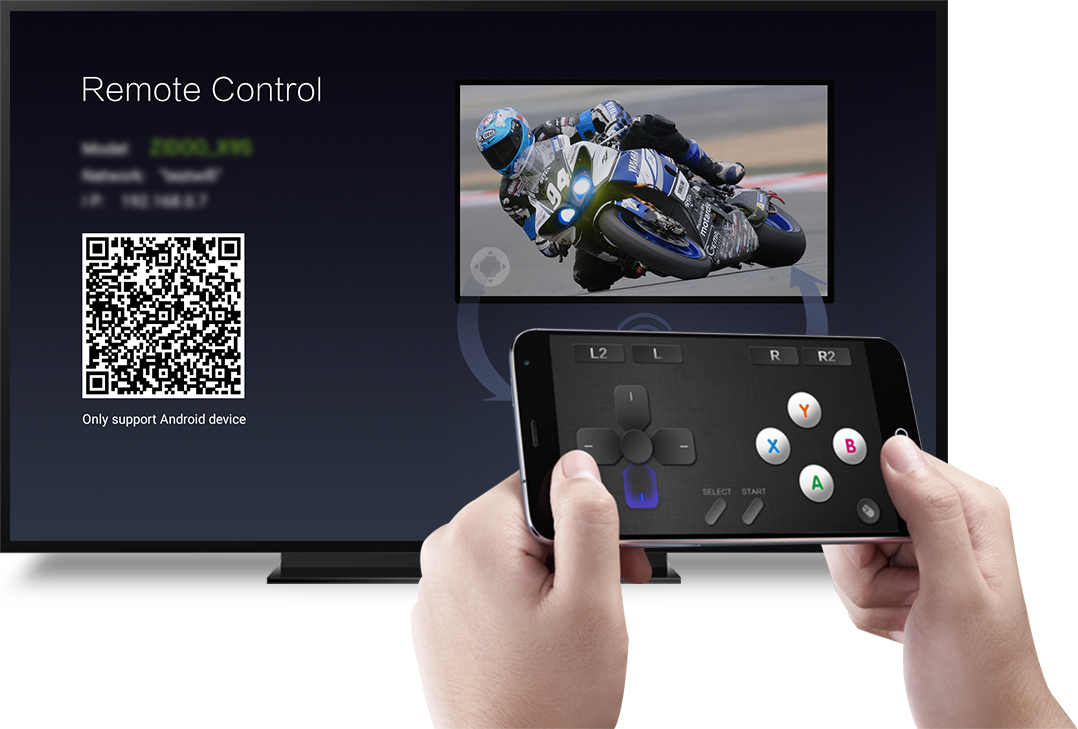 Clean Up
ZIUI Scavenger
ZIUI provides aggregated cleanup capabilities, and you are able to easily manage the
thirdparty APP by Clean Up or terminate running process
OTA
Online Upgrade
ZIUI will automatically detect the latest system version. If there is the latest system,
you will receive upgrade information and experience the upgraded function.
Power management
In order to avoid misuse, ZIUI will prompt you when you press the power button and
provides you three different power options
Specification
Model
X10
Material
Space Aluminium
Display
VFD display
Shell
Aviation Aluminum alloy case in smoke-colored
OS
Android 6.0 + OpenWRT(NAS) dual system run simultaneously
CPU
Realtek RTD1295 ARM Cortex-A53 Quad-Core with floating-point unit and NEON SIMD engine embedded
GPU
ARM T820 MP3(3-core)
Memory
2GB DDR3
Internal Storage
16GB eMMC
Wifi Connectivity
IEEE 802.11a/b/g/n, 802.11AC,4.900 GHz ~ 5.845 GHz (5.0 GHz ISM Band) RTK8821 dual-band WIFI
Ethernet
1*RJ-45 Ethernet Jack (10/100/1000Mbps)
Bluetooth
BT4.0
HDMI Out
HDMI with HDCP 2.2 output, Support 4K@60fps Support HD Audio(7.1CH), support 23.976 and 29.94
HDMI In
HDMI with HDCP 2.2 input, support PIP, HDMI IN stream recode and stream output via UDP etc…
Video decode
HDR, 10-bit HEVC/H.265 up to 4K @ 60fps, VP9 up to 4K @ 60 fps, H.264 up to 4K @ 24 fps, automatic frame rate switching
Audio decode
Support HD audio(7.1ch) decode and passthrough Redesigned Native player,Blu-ray better compatibility,Powerful subtitles ,Support MVC ISO,MVC MKV. Built in ZDMC
USB
1 * USB3.0
2 * USB2.0
*External power needed if USB connects to over 1TB mobile HDD
Power
DC 12V/3A
other interface
1 * TF card reader SD card interface . Support 1GB/2GB/4GB/8GB/16GB/32GB
1 * IR receiver
1 * AV OUT Composite video and audio port (Cvbs output)
1 * OPTICAL (2CH, 5.1CH)
2 * External high-gain Antenna
1 * HDD BAY
1 * VFD display (with LED light)
What's in the box:
1 * Media Player
1 * Remote control
1 * HDMI cable
1 * Power adapter
1 * User manual
1 * Standard A/V cable